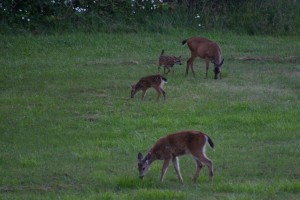 It's been just a little over three years since we packed up and left California for Creswell.  It seems like we've been here a lot longer, but the calendar says otherwise.  It has been an amazing year of transition and the people of Creswell have been nothing but hospitable.  There's a time when any kind of transition becomes complete.  Sometimes you don't even notice it as the brief moment flies by.  It's that time when the new becomes the now and the old becomes the past.  I was just mentioning to my wife the other day that our new house in Creswell finally feels like home.  I no longer feel like the town newbie.
This has been an interesting year.  When we moved the realtor told us it never snows in "the valley"; it snowed twice and we loved it.  They also said there were never power outages; we had the longest one in 30 years and we didn't love it.  We were told that the 4th of July in Creswell was a spectacular celebration; and it was.
We are not fond of the train that seems to see-saw back and forth across Oregon Ave right at rush hour every day.  However, that is the worst of the traffic jams I've seen around here and for a guy from California there seems to be pretty little reason to complain.
I got to reflecting on our year when I saw the banner go up about the annual Christmas lighting party.  It reminded me of about this time last year when I was coming home from Eugene, undoubtedly shopping at Jerry's or Home Depot for house remodel stuff.  As I pulled into town I noticed that the street was blocked off and there were flashing lights at the end of the street and a whole lot more people than usual milling about.  I stopped and parked.  I was thinking there was something really bad going on and it turned out to be something really good.
This year we made sure to find out when it was happening.  Since they said it was annual we, brilliant as we are, figured it would come around again.  We were not disappointed.  We had fun hanging out with David Stramm (Creswell Church of Christ pastor) and ended up by having dinner at Cabo's.  We were not intending to eat Mexican food that night, but after Ed Bennett led us in that Christmas song "Felice Navidad" we felt compelled.
There are so many friendly people and businesses in Creswell that I'm afraid to mention any for fear that I would forget someone important.  My wife and I often go to the Rocket-In on Fridays for "Fish Sandwich day".  They always give us a fish sandwich even if they are just doing fish and chips that week.  Of course, now that I mentioned it everyone's going to want equal treatment so I probably just blew that deal.  We love to eat breakfast there or at TJ's our other haunt.  We've recently discovered the small restaurant at the golf course and it's also quite good.  The burgers and fried mushrooms at Mom's are incredible, The China Wok is wonderful, and we're never wanting for great coffee drinks and big smiles with all the venues in town. Occasionally we venture over to Cottage Grove, but we don't often feel the need to go that far.  We became regulars at all of the restaurants while remodeling our kitchen and have gotten to know lots of people through those experiences.
A guy at Ray's, the other day, asked me if I'd like help out with my groceries.  I told him that I could get them to the car OK, since he'd put them in a cart already, but if he wanted to follow me home he could help carry them upstairs.  We both had a good laugh.
I enjoy the people who work at the Cascade Hardware store and thank them for always having that little gizmo we've needed during our remodel.
I've found that I need to schedule at least half an hour to get a haircut since there are always interesting stories being passed around at the local barber shops.   I know that half an hour doesn't sound like a long time, but most of the time the barbers I've been to in the past just look at my hair and say, "Why bother"?
We didn't miss the opening of the new Bi-Mart just after we moved here and that was a lot of fun.  We scored some free donuts and coffee and an Oregon Ducks baseball cap.  This inspired us to become Duck football fans and we never missed a game even though a couple of them were listened to on a scratchy sounding radio.  Some were more disappointing than others, but we're looking forward to Dec. 31st and then on to next season.
It looks like the overpass joining the "West-siders" and "East-siders" is almost complete.  My wife remarked yesterday that she thinks we have a "cute overpass".  It will be nice to be a city reunited.  I am so glad they are putting in a 4-way stop there.
Thanks to the South Willamette Vet Clinic for saving our dog's life after she ate some rat poison hidden in a corner of our new garage.  That was a scary time and they made her all better.  I've since scoured our property looking for other suspicious stuff that dogs might think is good to eat.
Finally, I've enjoyed getting to know Bob Clack and his wife Kathy and daughter Isabel this year.  The OurCreswell.com website provided us with a lot of useful information while making the decision to move here and during our first year in residence.  I am grateful for all the work he puts into making Creswell a fun place to live and I've appreciated him allowing me to share about our journey here.
I don't know what made me decide to write down all of this rambling.  I guess I just wanted to say thanks to all the people that made us feel so welcome during our first year as Creswellians. The population counter has gone up so I'm guessing there are lots of other first year types who would share our sentiments.
I suppose in the coming year, now that I'm not longer a newbie, I'll have to come up with something else to write about besides our journey.  The search is over. Creswell is our home now.